Rivers belong where they can ramble
Eagles belong where they can fly
I've got to be where my spirit can run free
Got to find my corner of the sky
From
Pippin
by
Stephen Schwartz
I have moved a whooooole lot over the years. The longest I've ever spent in one place was in my childhood home of Rising Sun, MD. For all its faults, it was a good place to grow up. Rolling semi-countryside, decent schools, teachers who cared and an obvious lack of commercial pollution. As far as I know (I haven't gone back much) the town got it's first McDonalds several years ago, and THAT was pretty high society. The best part was our house though. We had just enough land to run around in, a garden out back every year and a basketball hoop over the garage. Dad even painted a half court on the driveway. It was a nice house and yard to grow up in. Mom always had the door open to my friends, and my friends' houses were accessible too. That was awesome. There was a Christmas tree farm, a house with an above ground pool next to a private school with expansive grounds, and a house with bunk beds where we would dream of Patrick Swayze to the anthem of Slippery When Wet. All in all, it was a pretty fantastic place to grow up.
When it was time to go to college, I moved into Baltimore City. Throughout the years, I've lived in Charles Village, Towson, Upper Fells/Patterson Park, Govans, and my two favorites: Fells Point and Federal Hill. I think Federal Hill is my true number one. Not only is it the place where Dennis and I first lived together and where we raised Roscoe from a pup, but a place where we could walk to work. A place where we could go up the street and have a cocktail or dinner and the bartender knew our name. And best of all, a place where we were two blocks from a market with fresh seafood, flowers, freshly ground beef and produce among other goodies.
Despite this, when Dennis received a job offer out of state, we were okay with a change in scenery. He was to train in the company's home area of Winston Salem, NC. We were only there for 6 months, but it made quite an impression. North Carolina is painted in an unreal palate of greens. It's absolutely breathtaking. The town (city??!!) is a little, um.... slow, but charming and very friendly. We were a bit loathe to leave.
Next stop... Florida! I had lived in Key West previously, but spent all my time working. This time, I was going with no job and no sense of the land. What I discovered rather quickly was that each little area in the strip between Fort Lauderdale and Miami had it's own unique personality. We lived in Hallandale Beach where the median age was quite a bit older and shifted from a diverse mix in the off-season to a predominately French Canadian population during peak season. Hollywood (Hollyweird) is a condo town, a lot of them setup as rentals. So it was a nice mix of young and old, professionals, service industry and retirees. The weird part comes in when you consider that it's the halfway point between Lauderdale and Miami. Working in Hollywood exposed me to a WIDE mix of personalities and incomes. It was a strange soup to be sure. One of the great things about Hollywood was the beach area. It had a boardwalk with shops and restaurants, just like the summer beach of my youth. Florida was great, not for a forever home, but for making some incredible friends. My two and a half years in Florida introduced me to some of extraordinary people.
Alas, it was time to move again. This time, it was for a fantastic reason. We were heading back "home" to the midatlantic with our 6 week old son so that Dennis could be the chef at Dogfish Head. Would this be it? Would we finally be somewhere to settle down and finally grow roots? Well, it's taken a year, but I received the final piece of the puzzle-answer just a few weeks ago. The first piece was being close to family.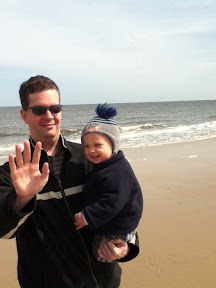 Granted, we're closer to my family than Dennis', but we could at least drive to visit the Marcoux clan and they could come see us.
That wasn't quite feasible while living in Florida. Second, we are a short two and a half hours from my favorite little city: Baltimore. I could go to my favorite spots and reconnect with friends.
Third, we have the beach 10 minutes away.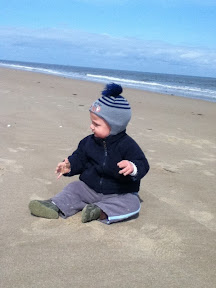 Fourth, we live in a quiet community across the street from a cattle field. It's not quite the boonies, but it's certainly not urban.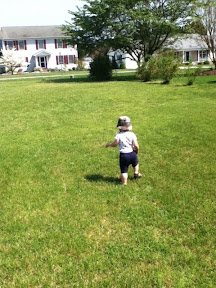 The last piece fell into place when I took Alex to a nearby trail that connects Cape Henlopen beach park with Rehoboth Beach. As we walked from the parking lot back to the trail, it became greener and greener. The trees joined into a gorgeous canopy.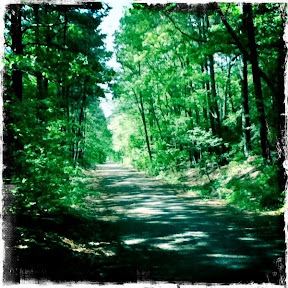 I got my Carolina back! I realized that I now lived somewhere with access to the best elements from each of the places I'd lived. The only missing part is the friends I've left behind. But my heart has enough room to keep them with me too.